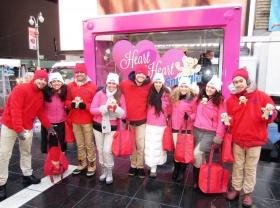 Bulldog Mobile Billboards President Rod Collins helped conduct a Valentine's Day campaign with Snuggle Fabric Softener featuring the distribution of 20,000 free Snuggle Bears on the Square outside of Bulldog's glass walled display truck.  The vinyl wrapped truck was used to welcome guests inside to record personal Valentine's videos that were then distributed immediately via Facebook, Twitter or Email.   For the second time Bulldog Mobile Billboards assisted on Times Square during a Valentine's Day as multiple engagements, a dozen marriages and hundreds of couples renewed their vows on the famous glass steps.
Collins' team is assisting the tour by providing the Valentine's Day and Snuggle Fabric Softener themed advertising vehicle early morning and into the evening. Twelve brand ambassadors gave away the last of the Snuggle Bears in the early evening complete with a Happy Valentines wish with each from Snuggle Fabric Softener.
About Bulldog Mobile Billboards:
Bulldog Mobile Billboards offers a unique alternative to traditional radio, television and outdoor advertising. With a mission to provide businesses with remarkable mobile adverting vehicle campaigns to help break through today's media clutter, Bulldog Mobile Billboards uses targeted messaging that generates results. Bulldog Mobile Billboards uses its unique truck-mounted and vinyl wrapped glass box vehicles. In addition to two sizes of glass walled display trucks, Bulldog Mobile Billboards operates over sized billboard trucks, bicycle street teams and recently unveiled the first ever Advertising Display Cube. The AdverDisplayCube is a mobile, transparent showcase with 360 degrees of glass walls for transparency and hundreds of square feet of exterior real estate for brand messaging.  This mobile advertising display trailer features power on board for lighting and climate control.  This vehicle is perfect as a pop up store, showcase, trade show booth, and for tailgating.  The entire fleet is available nationwide and in Canada. Hop on board with Bulldog Mobile Billboards and drive forward into the mobile advertising world. For a sales kit or more information about advertising, please contact Rod Collins at Rod@BulldogBillboards.com, call the New York office (212) 726.2355 or Dallas office (214)724-2729.